Daviess County punches up commercial logistics capacity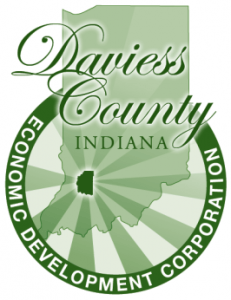 Media Brief: Daviess County punches up commercial logistics capacity with $2 million railroad cross dock at I-69 interchange
New rail supply facility opens at regional major east/west and north/south logistics and manufacturing hub to foster, promote regional economic growth.
WASHINGTON, Indiana – A new $2 million commercial rail cross-dock facility formally opened here November 15 and has already had a positive impact on business attraction, according to Phil O'Haver, vice chairman of the Daviess County Economic Development Corporation (DCEDC). The enclosed, all-weather climate-controlled 18,000 sq. ft. rail facility is the first rail expansion in Washington in decades and will be open to all commercial business in the broader region.
The new facility, which is attached to an all-new 40,000 sq. ft. shell building, is expected to result in accelerated job creation, new corporate attraction, and additional local business expansion. The new rail cross-dock is part of a $10 million project that included the shell building and "much-needed wastewater and electrical infrastructure to the I-69/U.S. 50 interchange," said Ron Arnold, DCEDC executive director. The project has already attracted multiple inquiries from companies seeking expansion opportunities.
The new railroad cross-dock facility, which will allow the direct loading of semi-trailers and railroad cars, will connect companies to the existing east/west CSX rail line. The new supply chain facility will help serve logistics needs and increase efficiencies for regional companies in the area, including GPC (Grain Processing Corporation) and Alliance Barrier Films. The facility is located in a greenfield space that encompasses hundreds of acres.
Garmong Construction of Terre Haute built the new shell facility and the cross-dock.
The on-site rail cross-dock is expected to encourage the attraction and expansion of companies with specialty needs in transportation, logistics and distribution. The new rail-served industrial site was designed to be attractive to companies requiring advanced storage and transfer needs, according to Arnold.
The new 18,000 sq. ft. cross-dock and the 40,000 sq. ft. expandable shell facility sits on a high-profile location (it can be readily seen from the I-69 interstate) and is about midway between Evansville and Bloomington, Indiana.
# # #
About the Daviess County Economic Development Corporation
As a private/public partnership for county-wide economic development, the Daviess County Economic Development Corporation (DCEDC) is working to build a foundation for a better tomorrow in the communities within Daviess County, Indiana. A founding organization of the WestGate @ Crane Technology Park, DCEDC's mission is to develop a process which improves the standard of living for all citizens by creating, retaining and reinvesting wealth while protecting the environment. For more information, please visit www.dcedc.net.
---