MEK Case Study-The WestGate Tech Park
Building a High-Tech Brand in the Middle of Nowhere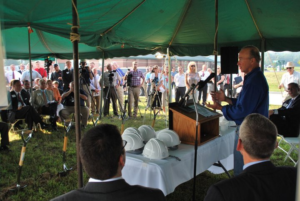 Scoring $15 million in development funding. Positioning the park with a Governor and two Lt. Governors. Developing a national name, logo and brand. Building a vision through national and statewide media relations.
"MEK puts wheels on initiatives," said one executive with a local economic development agency. When MEK started (initially with Daviess County), what is today a multi-use facility with more than a quarter of million sq. ft. of all-new commercial buildings was then nothing but soybean and corn fields with little to no infrastructure.

Over a period of several years, MEK provided award-winning marketing, PR and digital services for the WestGate @ Crane Technology Park. Starting with ground-breaking statewide gatekeeper research that uncovered multiple opportunities, MEK professionals were deeply involved across the board in setting up what is today a $100 million technology facility adjacent to the $2 billion Naval Surface Warfare Center (NSWC), Crane Division. That facility includes the state-of-the-art Battery Innovation Center, an energy storage and transmission operation with a global reputation – MEK helped brand and position this important entity with national media relations.
From first helping county officials navigate the state's tech park certification process to building park web sites to organizing and conducting high-level meetings with Purdue University executives (for management of the park), MEK has played an extensive role in the development and progress of Indiana's only tri-county technology park.


Activities conducted by MEK for the WestGate tech park include:
Organizing funding initiatives with the Indiana Economic Development Corporation (including $15 million in development)
Branding and naming the park
Organizing and supporting the IEDC certification process (including drafting the original multi-county inter-local agreement and establishing the process for the counties to partner with each other)
Coordinating and promoting efforts by three different economic development agencies to advance the park
Strategic planning
White paper and MOU development
Extensive branding programs, including advertising, digital and public relations efforts
Broad media relations for positioning (national, state and local)
Key influencer outreach campaign (statewide) with members of Congress and U.S. Senate, capitol staffers, defense company CEOs and executives, senior academic administrators, workforce development officials, foundation and federal agencies (U.S. Department of Commerce)
Coordination and planning with several state agencies
Market research
Board organization and development for the WestGate Authority (governing council)
Organization of first statewide NSWC Crane conference with university directors of engagement and commercial executives
Outreach and connectivity with other similar technology facilities, including the Cummins Research Park in Huntsville, Ala.
---