"Best Investigative Paragraph" & Trust in the Republic
---
Published on: Mar 30, 2017 by Michael Snyder
No comments
Memo from journo legend Ann Compton to mainstream media: "Undermining our democracy is not Job One." Further: a singular task of mainstream media is to "work responsibly and openly to earn back your trust."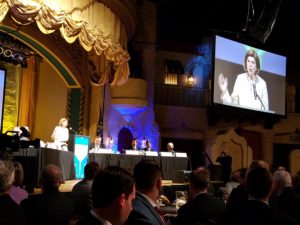 Compton, who retired from ABC-News after 41 years with the network, delivered her remarks to a packed appreciative crowd at the annual Indiana Chamber legislative dinner in March.
After charming the assembly of state legislators, executives and lobbyists by humorously noting that Gov. Holcomb's basketball brackets had been hacked, the network legend (she was the only network reporter aboard Air Force One during the 9/11 crisis) regaled the group with anecdote after anecdote, some serious, some insightful, some humorous.
A major challenge today is the diminishing efforts of people to devote resources to becoming truly informed. Too many people rely on opinions offered by reporters instead of facts. What happened after CNN fireed up as the first consumer 24-hour news service in 1980? The phenomena of "political news all day, every day" was born and quickly became popular.
"Best Investigative Paragraph"
The quick-read USA Today also appeared in the 1980s. The result? News and coverage are today dumbed-down to pie charts and infographics. She lamented that she's surprised that journalism awards don't today include the award for "Best Investigative Paragraph."
"The Digital Age has changed all of us – things get clumped together," she remarked, noting that U.S. Presidents Kennedy, Johnson and Nixon all successively wiretapped their offices, hoping to document their administrations for posterity. And, she added, to protect their respective presidency from an internal menace: high-level information leaks in the White House.
Compton pointed out that during the Nixon Watergate Crisis, the chief source that gave Washington Post reporters Carl Bernstein and Bob Woodward (then junior-level reporters) needed credibility was a succession of illegal high-level leaks by the No. 2 FBI administrator, known for years only as "Deep Throat." These types of information leaks have plagued nearly every administration.
Compton believes that the "political ear" of President Donald Trump is "pretty good," noting that he has already set up infrastructure for a re-election bid. "Lame ducks are weak" and President Trump knows this, Compton opined.
Fake News a Serious Issue
While it has fostered a transparent openness in public affairs, the Internet has also proven harmful by creating powerful and negative opportunities for Fake News, according to Compton. "Fake news websites are very real – criminal in deceptive capacity," she said, adding that political fake news is written to appeal to voters who want the "inside" type of news, no matter how outlandish or sensational.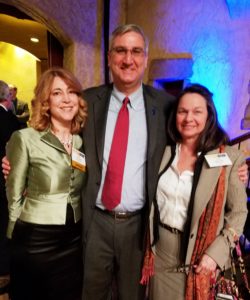 Despite all of this, while she maintains that dysfunctional government here and abroad remains "a worry," Compton ended on a high note: "I really do believe that the Republic is strong."
By Michael Snyder, Managing Principal, MEK Group
---